What about Pie?
As real estate professionals, our #HumansOverHouses mindset saves us from losing sight of why we are in this profession — NextHome is here for the people in our communities.
That's why, every year at Thanksgiving – I give away Thanksgiving Pies. You don't have to be a client – simply part of the community. It's just one of the many ways that we put #HumansOverHouses every day.

---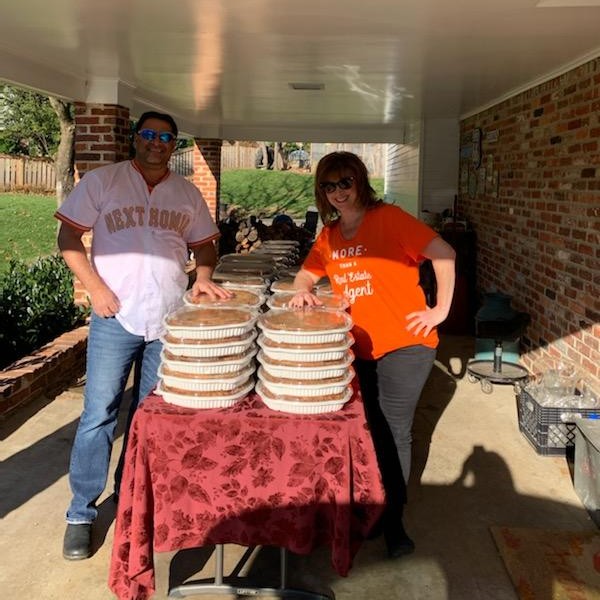 Testimonials
" Lisa did a great job. I highly recommend her. "
- Barbara Stevens
" I highly recommend Potomac native Lisa Rudolph Nasar. I live out of state and she was able to handle all aspects of the sale of my parents home and was able to do so even in the pandemic. She was absolutely amazing. She grew up down the street from our home, knows the area and knows the market. If your looking to sell, Lisa Nasar is the one to help. "
- Mark Elenowitz
" If you're looking for a top notch realtor, you need to call Lisa Nasar. Not only was she extremely easy to work with, but she got us top dollar. "
- Michelle Baldwin (Interior Designer.)
" I've known Lisa forever, so it was a natural fit to ask her for help in finding my condo. She is fantastic! She is patient, understanding and really understands what her clients are looking for. We spent one day looking. The place I bought she "knew was going to be the one for me" and she was right! If you are looking for a home in the MD/DC area, I promise you will get great service and all the help you need from Lisa! "
- Ken Sandler (Personal trainer/Fitness coach)
" Lisa listed, sold and settled my condo in less than one month. She walked into my condo, made several suggestions that I took and within days of listing it, it was sold. Thank you Lisa. "
- Fra R
" We had a fabulous time working with Leon! Throughout the whole process, he was responsive, detailed, honest and supportive. We got the house of our dreams in the first offer that we submitted- we highly recommend him. "
- Adriana Espinosa
" Lisa and her team have been consistently dependable, professional, diligent and always attentive to client needs and objectives. Lisa and her team carry our highest recommendation for real estate needs. "
- Jeffrey Needle (President The Needle Law Group)
" Lisa, is a great salesperson she is efficient and professional in every way. She was eager to help us quickly. We met her at an open house in Darnestown, MD and for us it was simply perfect timing. We were nearly running low on energy in seeking our new home place and our home was on the market. What a surprise! She helped us transition in financing rather quickly and was eager to please. Thanks Lisa, for your support and salesmanship! We would highly recommend your services to any type of potential buyer. Job well done! Happy clients in Rockville, MD...and she buys dinner (smile) on move in day!!!! "
- The Davis Family
" I couldn't have been in better hands! From the day I decided to sell my home and through settlement, Lisa and Leon Nasar helped me see a clear path toward the sale of my home. Their recommendations and contacts in the business helped me turn my house around in a matter of weeks to get it ready for the market. I appreciated how they were always available for me when I had questions as they brought years of experience with each answer. I couldn't be happier with the way everything turned out. I am so grateful. "
- Elizabeth Hancock (HR Consultant)
" Hi Lisa, Leon was great to work with, he is always on top of the issue and very helpful getting the answers or resolutions back timely. He took on initiative to do what a seller's agent supposed to do, otherwise the transaction will be no-doubt delayed. Thanks. John "
- John Wu (Business Owner)
" Lisa is an outstanding 5 Star agent. I live out of state and needed help to sell my childhood home. The house required significant repair and renovation work before we could come to market. Lisa provided excellent guidance on what work should be completed maximize value, brought in the right contractors, and oversaw getting it done. Once we hit market she had it sold at top value in no time. Lisa's attention to detail, knowledge of the market, and communication style is second to none. She goes above and beyond and I highly recommend her. "
- Doug Elenowitz (Home Seller)
" I have known Lisa for over 30 years. Real estate was a passion that she had early on and it was a natural fit for her as a profession. She is a true talent in the field. As a native Washingtonian, she is knowledgeable about the entire DMV (Washington, DC metropolitan area) and will guide anyone through their purchase or sale with ease, comfort and complete professionalism. "
- Debbie Maytin
" Lisa was able to capture our interest in homes and selected places we might be interested in. She was patient and took us to several neighborhoods in Bethesda and Rockville to see both houses and condos. She helped us gather the information necessary to make a final decision on what we wanted to purchase. She made this journey a pleasant and stress-free experience! We very much recommend her as an experienced and efficient realtor! "
- Didier and Maria Portilla
" I highly recommend Lisa. She was very helpful in finding me a great house. "
- Zack McDonough (First Time Home Buyer)
" Lisa is extremely professional. She sold my condo in 4 days. Could'nt be more pleased with the outcome. I highly recommend Lisa. She goes above and beyond for her clients! "
- Anne Marschall
" Lisa and leon are the friendliest and most knowledgeable agents! They always answered the phone and replied to emails/texts swiftly. Excellent understanding of the local market and we'd use them again the next time we buy a home. Highly recommended!" "
- Michael Z Hyatt
" Outstanding agent. You won't find yourself in better hands than with Lisa. Lisa's desire to keep her clients best interest in mind is unlike any agent I've used in the past. She looks out for her clients from start to finish combining her caring and dedicated style with her tenacious approach to delivering exactly what her clients need. In my case, Lisa was so concerned about doing what was best for me that in an unusual turn of events she recommended I not sell my home and wait until the time was right. I will definitely be headed straight back to Lisa when that time comes. Lisa Nasar is five stars all the way! "
- Allison Lvovsky
" I have known Lisa for many years. She is smart, experienced and very personable. She will do a great job helping you buy or sell a home. "
- Mickey Goldstein
" Lisa is a great agent! Clearly cares about her clients. Thanks for everything Lisa!! "
- Steve Kennedy
" Lisa is a very knowledgeable realtor. She always puts her clients needs first. I highly recommend Lisa! The pies she gives her clients for Thanksgiving are fantastic too. "
- Perri
" GREAT job by Lisa and Leon. Very smooth transaction for my sale. THANKS AGIN! Would highly recommend to friends and family. "
- Todd Frank
" Initially my sister and I chose Lisa Nasar to sell our parents house simply because we have known each other since elementary school plus, she already outstanding reviews. However, we quickly realized we had made the right decision after our initial meeting. She took the time to meet with us right away and provided needed feedback and a plan to get the house on the market asap. My sister and I are not local, so we relied heavily on Lisa. She was always available to drop by the house or answer any questions. She was so helpful with her team of contractors to make minimal improvements as well as her marketing of the house. Lisa ended up getting us multiple offers and above list price. We are so pleased with the entire process and enjoyed working with Lisa to get the house sold as quickly as it did! "
- Stephanie Dziekan
" Lisa Nasar was highly recommended to me by a friend. When I met Lisa, I found her to be friendly and smart. She seemed to know the real estate market well and what to do to get a house sold. When she faced problems, she had a source full of resources to refer to for help. She was great in dealing with a problem buyer who was very picky. I would recommend her to anybody looking to buy or sell a home in today's market. "
- Bob Bratt - GUEST (COO)
" Friendly ,fortune person, have a good patient , always breaking the Record. "
- Hui Huang
" Lisa helped my mom and I buy our house and she did an amazing job. She helped us find a place while I was living out of state. She made the process of looking and negotiating for the property we ended up choosing very easy in not so easy circumstances. Highly recommend! "
- Jake Rozhansky
" Lisa is a top notch RE Professional. She has a great feel for the constantly changing market and always supports her clients every step of the way. 10 out of 10!! "
- Mike Maites
" We had a great experience buying our home with Lisa and Leon. They were very responsive to all our questions, and helped us find and visit houses newly on the market as soon as possible. Once we found the house we wanted, their advice and guidance helped us write an offer that was accepted, and they were helpful every step of the way to closing (and after!). We would definitely recommend them to anyone, and will definitely use them again if we buy or sell a house in the future. "
- Nathan Crowley
" My husband and I are first time home buyers and thanks to Lisa and Leon for the amazing work in helping us reach our goal!. They are professional yet caring and very thoughtful. It was never a dull moment! I would highly recommend them for any real estate needs. They are definitely amazing people who will make you feel like family. Thank you! "
- Emily Rivas (First Time Home Buyer)
" Lisa was the best. Highly recommend her. "
- Robert Klug
" Lisa is friendly, smart, and listens to really understand your needs with what you want in a home! Go with Lisa! She will find you the place you are looking for! "
- ken Sandler (Personal Trainer)
" Lisa is a very supportive and attentive realtor. She helped us to sell our townhome and buy a single family home all within 2.5 months! Her expertise guided us to make the right decisions on when to sell and when to buy. She also has great recommendations of who to work with in order to making the buying process simple and efficient. We highly recommend her and will continue to use her in the future. "
- Christine Antezana
" Lisa has been my realtor that I now call a friend for 10 years. She has handled several transactions for me, both personal and investment. She has always been positive and update, yet gets the deal done!!! She's a rock star and I happily recommend her to everyone I know. "
- S. Collins
" I highly recommend Lisa and am thrilled with the purchase of my new home. She was extremely patient and showed me homes for a year or so until we found the right one. Lisa is extremely knowledgeable , professional and responsive,- thanks Lisa! "
- Sarah Santoni (Home Buyer)
" Lisa and Leon...hmmm. Full disclosure my Wifes a realtor so I'd be toast if I bought from anyone else. That has never stopped Leon and Lisa from inviting me to events or thinking of me with random acts of kindness. How kind you ask??? Who else have you not spoken to in a few months and gives you two tickets to see the Eagles? Leon and Lisa!!! So if kindness and sincerity are important to you, you need a damn fine realtor or a bucket list set of concert tickets... But dont ask for U2 tickets they are holding them for me..... .....Sarge..... "
- Patrick Avon (Sarge)
" I've known Lisa and Leon for years and contacted them to help my son find his first home in Baltimore. They both were so knowledgeable, patient and supportive and made nervous parents like us feel at ease throughout the whole process. I loved working with them and would whole heartedly recommend them. Plus they make me smile : ) "
- Bonnie Ramer
" I've known Leon and Lisa for over 10 years, and they are 2 of the nicest people you would be lucky to know. I would highly recommend them for your Real Estate needs. "
- Tim Murray
" Lisa is very friendly and knowledgeable. She will always have your back and keep you updated every step of the way. She really cares about her clients as well as the community and neighborhood she lives in. If you are looking for a realtor who you can trust, I highly recommend Lisa. You will not be disappointed. "
- Nil Lilly Bay
" Lisa is always helpful and has great advise. I know I can rely on Lisa for great recommendations and suggestions when it comes to real estate questions. "
- Rachel S.
" Lisa Nasar was our real estate agent in the fall of 2020 during the global pandemic. Under her management, our house went under contract after only one week on the market. She did a lot of work to help us sell the house and we were very grateful for her services. Some specific examples of what she did included: 1. We needed to refresh the interior of the house and hired a painter. Lisa worked directly with the painter and selected the paint color. The results were excellent and everyone loved the color. 2. Lisa was very thorough and had 90 pictures taken of the house, from the basement to the exterior including aerial shots. Therefore the online listing was very detailed and informative. 3. Lisa took considerable time to decide the listing price of the house. She studied the housing prices in the neighborhood and consulted her colleagues before making her recommendation. We were motivated sellers and were very pleased to receive an immediate full-price offer shortly after we listed it. 4. We had moved out of state and left the house in Lisa's care even prior to when we listed it and she handled all of the details related to staging and cleaning and so on. We were very happy with Lisa's professional judgment and services and would recommend her if you are ever looking to buy or sell your house. "
- Howard Hung
" Originally I was going to list my house as a "for sale by owner" and Lisa was the agent for another home in my development. After meeting Lisa , hearing her marketing pitch for my home I turned my listing over to her. She did a great job promoting my property , and got it sold for my target price within a week. Couldn't be better. "
- David Rothfeld (Great job....)
" Lisa did an exceptional job for me during my recent move. She was efficient , helpful and fun to work with. Everything went extremely well and it was a pleasure working with Lisa. I would highly recommend using her for your move. "
- Razelle King
" It was wonderful and so easy to work with Lisa when I was selling my apartment. She was thorough and responsive, and helped me through each step of the process. I will definitely use her again! "
- Suzie Friedman (Psychologist, private practice)
" Lisa Nasar is such a smart, dedicated, and fiercely savvy real estate professional. You want a house or you want to sell...she makes it happen. She's a step ahead of everyone in the field and has the best contacts to make everything go the best possible way. Thanks, Lisa!!! "
- Nikki Kaplan
" This is the second home Lisa has sold for us in the past few months. This time she sold the house in literally 13 minutes for $25K more than we were asking. I did not have to do a thing besides show up for the settlement. How can you possibly find someone better than this? YOU CAN'T! "
- ERIC SYPES
" Lisa was great, friendly, flexible and efficient. She got us closed in record time and recommended a trusted Title company to work with. We would easily recommend Lisa's services and are happy to have met her! "
- David Sacerdoti
" Lisa is an outstanding real estate agent. She works side by side with her clients on the process of getting the house ready for the market. She is on top of all the details and that takes lots of weight out of her clients shoulders. She is very responsive, and help her clients through each step of the process. Selling a house and moving are very stressful times but she manages to make it is so smooth !! I've worked with her during these processes and I've seen her work, she is definitely an agent that i will recommend! Lisa is who you need to get your house sold! "
- Claudia Vieytes
" Our family feels enormously grateful for the privilege of having Lisa as our real estate agent. She was sensitive to our needs as siblings, struggling tremendously to let go of our childhood home. Lisa was patient, warm and considerate while also earnest in her efforts to sell our home. She was remarkably organized, efficient, energetic and with an extremely high level of executive functioning skills. We enjoyed her good sense of humor and her interest in getting to know our family. She carefully considered various strategies, but made it clear which approach she felt was ideal and moved swiftly. Our home was under contract within 4 days!! We will be working with Lisa again, and again.......She's trustworthy! "
- Kathleen Donovan (Psychotherapist)
" Lisa is so professional, competent in what she does, and kind. She is an amazing real estate agent and goes out of her way to make her clients comfortable and to make the experience fun! I would highly recommend Lisa.. you will be in amazing hands! "
- Erica Land (Photographer )
" It was such a pleasure to work with Lisa. We were first time homebuyers and Lisa was extremely patient with us. She went above and beyond to accommodate our schedules. Lisa was very knowledgeable and well informed about the area in which we were looking to purchase and as a result we landed the perfect home for our family. I would definitely recommend her. 5 stars and always smells amazing ??. "
- Emem Mendie
" Lisa and Leon were nothing less than exceptional during the whole home buying process. My wife and I had a mandatory move from California to the Virginia/Maryland area because of the military and these two made it so simple and comforting to buy from across the country. They made all of our needs and wants a priority and even listened and remembered even the simplest requests. Their attention to detail, numerous FaceTime walkthroughs, and video recording walkthroughs allowed us to find our possible forever home. We highly recommend them for your next home buying/selling needs!!! A millions thanks for all of your hard work and patience with us. Sincerely, Nick and Melody "
- Nicks and Melody Boutin (Military)
Previous
Next